Books-A-Million
After work yesterday, Ash, which is a guy I just recently met about two-three days ago was feeling depressed, so I took one of the movies I had just bought to his house and made him Hamburger Helper to cheer him up. I want to just go ahead and smile while I add a notch in my list. If the friend Krista introduced me to stays in contact and we hang out, I'll add her, too.
0048. Meet new people who stay in contact [1/6]
Unfortunately, they took Scott Pilgrim out of the movie theaters here, so I have to change
0064. See Scott Pilgrim five times in theaters. [2/5]
to
0064. Watch Scott Pilgrim five times. [2/5]
. Sad day. :[
After this post, I'm going to post three updates; one of them will be a recipe for a plain cupcake, one is my list of books I want, and the third is the list of books I have read. But I'm going to do this tomorrow. Thomas is getting itchy to get into bed since we both work at 9:00am tomorrow and it's getting late.
Also, I've made $2.14 on ChaCha so far. At this rate, that's an extra $30.00 a month. Not bad for just sitting at the computer, answering shitty questions that are all similar to, "HAY WANNA SUCK MY DIX?"
Also, at Five Guys, we get a free meal every day that we work five hours. Here you go, grilled cheese with bacon: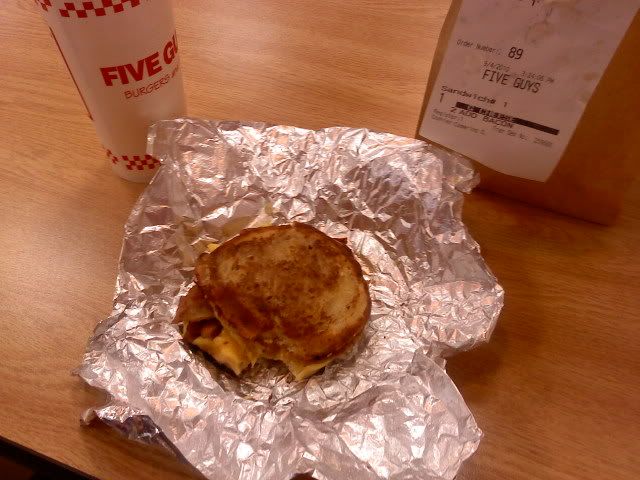 I really used to just stand in Books-A-Million and stare at all the nice books and be like, "SHIT I WISH I WASN'T POOR." But now I have this awesome job at Five Guys (technically, I wouldn't call it awesome. I have great hours, but the work is made up of keeping yourself busy when there is nothing to do.) I haven't made a paycheck yet, but I've been getting twenty-five hours a week, which is $181.25 for me. Minus about $60.00 in taxes, and my paychecks are lookin' in the $300.00 range. I only need $80.00 to pay my phone bill monthly and $200 a check to make it to New Orleans. That leaves me with $60, which I'll probably put back into my bank until after the trip with Dad. I'm really glad I don't have to ask for donations since I got the job. I was feeling pretty shitty about it, to be honest. I mean, putting back that much money is going to put me in a bind with all these new bills coming our way (car insurance, rent, my car insurance, and my gas for the extra car, and probably Thomas' phone added to my plan after his contract ends with his mom's). Eek, I still have a lot of money from the donations. I haven't spent a dime of it (would feel like shit if I used it for something other than what it is for), so that's good.